Blatant self promotion
Hello Haughtologists, well-wishers and newcomers,
I have some news.
Although I've become famous and adored around the world for my emails to blundering corporations, bigoted individuals, glorious ice-cream companies and, of course, the email that led to the greatest customer service response in the history of humanity, purveying fine sarcasm is not, in fact, my day job.
Haught, believe it or not, is an alter ego.
By day, I am a mild-mannered copywriter and editor. That's not me borrowing lazily from superhero lore; I quite literally have very mild manners.
Anyway, recently I decided to stop copywriting and editing under someone else's roof, accepting someone else's superannuation payments and abiding by someone else's strategic thinking. I've decided to start doing my own thing.
Introducing The Ink Bureau
I've called the new venture The Ink Bureau.
It's not an integrated communications workshop. It's not a holistic marketing solutions studio. It's a writing agency – that's it. I write and edit stuff for people.
Is it sarcastic bloggy stuff? Well it certainly can be. But it doesn't have to be. The whole point is it's free from corporate jargon and management marshmallowery that makes so much copywriting read the same these days.
As I said, Haught is an alter ego. So if you or someone you know is in need of writing or editing for a business with absolutely no requirement for snark or cynicism, but a desperate need to stand apart – The Ink Bureau can help.
Haught's mates' rates
Say you heard about The Ink Bureau through this website and I'll lop a bit off the final fee the first time round.
More information
You can read all about The Ink Bureau at the website (excuse the design; I did it all myself):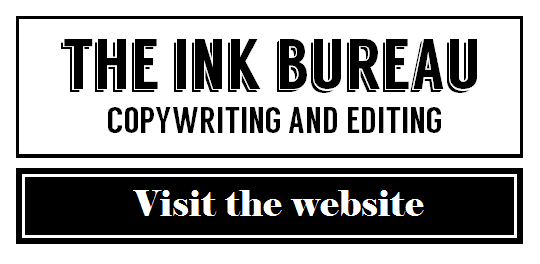 OK. That's enough self-gratification.