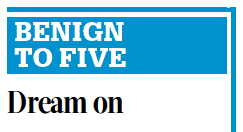 Dream on
A group of sage philosophers once offered this advice to the world: "Do what you wanna do. Be what you wanna be. Yeah. Ooo."
While I was working as a scraper of putrescence at the Burwood Smorgy's (while doubling as their Chief Operating Officer), these words had the ring of "Let them eat cake" about it. As I was de-mounding the plates of porcine humans, I saw no prospect of becoming the Universe-famous digital vigilante and high-profile columnist I so longed to be. I saw no prospect of anything, really.
That was before I got my big break. Writing for a living was my ultimate goal, but I had long harboured a secondary desire to professionally break-in exotic and extinct megafauna. So, after resigning from Smorgy's following the Spatula Affair, I hitchhiked my way to Queensland.
I chose Queensland because it's the only place in Australia where riding horses is considered "the easy level". It's also a place where scientifically proven and plainly observable facts are routinely ignored, so nobody blinked an eyelid when I said I was in town to harness diprotodons.
The work was taxing. On my body and my imagination. But it was rewarding as well. My dream had become a (fantastical) reality.
Fives years later, as I rode a giant cuttlefish back to Melbourne, the Masters Apprentices words suddenly felt much less disingenuous. And now I dispense their advice wherever I go.
If you're in a veritable Smorgy's of a job, know that doing what you wanna do and being what you wanna be is possible – even if it's all in the mind.
Yeah. Ooo.
An edited version of this article first appeared in the MyCareer section of The Age and Sydney Morning Herald. You can read Benign to Five in those papers every Saturday.