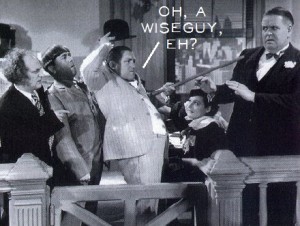 I had one of those abject moments of deflation last year. You know the ones: they came just after you realise a piece of your work – or the concept behind it – which you'd considered original in the most pristine sense, has been done before?
OK, to be fair "in the most pristine sense" is a bit of an exaggeration. I knew that mocking and denouncing corporate malarkey was, by the rules of human nature, almost as old as corporate malarkey itself. But I thought everyone was off in their own corners ridiculing and railing against their own bug-bears: the ubiquity and omnipotence of "brand", the impenetrability of "agile", the absurdity of the tiny list of words that go into most corporate mission statements…
…I was wrong. 
I'd been meaning to read Don Watson's books on corporate wank for years, but had never got around to it. Then, early last year, the perfect storm hit (i.e. I finally finished a Martin Amis book, having chipped away at it for seven years) and I picked up Death Sentence from Dymocks.
I got about five pages in when I heard one of the little blokes who does my inner monologue say in a voice not unlike Curly from the Three Stooges: "Hey, this fella's been rippin' off the ideas behind half'a yer columns."
Then another voice, resembling that of C-3PO from Star Wars, rained on Curly's parade: "Please remember, sir, that the book pre-dates Benign to Five by a full decade."
Then a panicky voice with a bit of a Woody Allen thing going on said "You've been… what can I say?… doing Don Watson's shtick for… well over a year in the pages of two… venerable newspapers. This is… well… this is… worse than the time you refused to buy home and contents insurance because you considered it a form of gambling."
And this is when my world fell apart. Not only had I come to a crushing realisation, but I had done so while 'borrowing' a comic device from Family Guy and a joke from The Simpsons!
And I don't even like Woody Allen.
Ah, well. As The Bible, Ambrose Bierce, John Lennon and William Gibson said, nothing is new under the sun.
Don Watson's website, Weasel Words, is a marvellous repository of hollow corporate eggs.
An edited version of this article first appeared in the MyCareer section of The Age and Sydney Morning Herald.
You can read the column – Benign to Five – in those papers every Saturday, and if you miss it, you can look it up online in the Workplace section of The Age, the Sydney Morning Herald, The Canberra Times, WAToday and Brisbane Times. (I now wankishly call myself a "syndicated columnist" on my CV.)