Emails
My email to Metro Trains
I wrote a letter to Metro Trains.
Exciting times.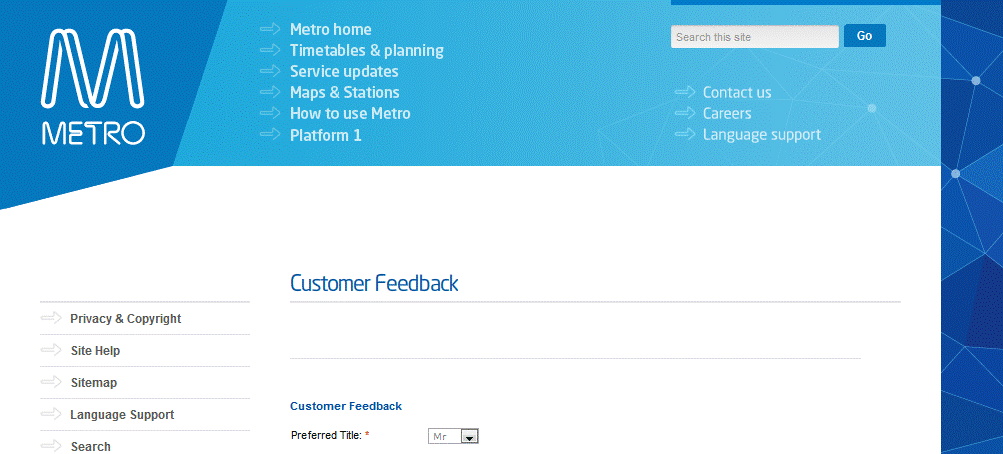 ---
Dear Metro Trains,
My name is Jonathan Rivett. You might know me – I'm kind of a big deal.  (I have many leather-bound books, and my apartment smells of rich mahogany.)
If you'e not familiar with my work, here's a quick summary. A couple of weeks ago I became very, very famous when I posted on my blog an email exchange between me and Yarra Trams.
I sent them my account of a tram trip my wife and I had endured during which a drunk man abused passengers in a theatrical baritone. I felt that Yarra Trams had been less than truthful with their insistence that the police had been called once this man's antics had gone from entertaining to distressing and wanted to know the real story. It was an immensely humorous and exquisitely worded piece of correspondence.
Instead of coming back with a hollow, supermarket-bought reply email, Yarra Trams responded in kind. I posted their brilliant email on my blog. The radio station 3AW found it, then The Age got wind of it and the rest is history.
Anyway, long story short: I thought I'd give you a chance to better your bitter public transport rivals.
Now, you may be thinking: 'What a contrivance! He's going to make up some spurious claim just so he can demand a thoughtful reply email.'
In fact, I have a back catalogue of unsent Metro Trains complaints that, if put down on paper, scrunched into a ball and launched into space, would quickly begin orbiting the sun and become our solar system's fourth largest planet.
The hardest part about writing this email will be choosing which of the sixty-five billion incidents I should mention.
Here are some from Flinders Street alone:
Not long ago a Metro customer service rep couldn't help several passengers frustrated by a faulty myki barrier because he was too busy clearing phlegm from his throat – for one and a half minutes. He finally got around to dispensing his wisdom once the offending green stuff had been deposited in his cardboard coffee cup, which remained in his hand as he told the commuters that they were "doing it all wrong".
Another time, a woman approached a platform attendant to clarify when a train was coming and, presumably because she was "of Asian appearance" (as they'd say on Crime Stoppers), got this response before she could even start the question: "No. No. Me no help. Me very busy – have many many work to do.  Thank you. Good bye." The woman walked away and uttered a sotto voce "Bugger this" (in a bit of a Queensland twang), at which point the Metro representative turned around and warned "Mind your language, missy."
I once witnessed one of your platform announcers become so angry when a commuter ignored their advice to "stand clear – the train is now departing" that they began to repeat the instruction into the microphone. The fourth time was loud, the fifth time was very loud and then it just got silly and people on the platform had to begin covering their ears. During the eighth "STAND CLEAR", his voice cracked and from then on it sounded like he was doing an unsophisticated Will Ferrell impression. By the twelfth and final one (the one where I thought I saw blood come out of his ear), the person he was screaming at had long since boarded the train, which was at that point leaving the station.
These are just some of the more picturesque examples that come to mind. The problem with this email, I think, will be the lack of bowled bread loaf and Biff Pelican references for you to play off. And there's a good reason for that – the bizarre behaviour of drunken passengers pales into complete insignificance when put side by side with your customer service.
Everyone understands that you have infrastructure problems that aren't of your making. What few of us understand is your unfailing commitment to terrible, terrible communication and your unstinting lack of respect for the punters, the people who hand over their hard-earned to keep you afloat.
Why do customer service people stand in front of barriers at Caulfield Station during peak hour so that one or two are effectively out of use?
Why do your express trains regularly stop at all stations and vice-versa?
Why is sitting like a stale bottle of piss between the MCG and Federation Square now the most time-consuming (involuntary) pastime in Melbourne?
Why do you persist with this "It's all the customers' fault" mentality?
Why do you have so many of your surliest and most bitter employees in 'customer facing' roles?
Why do the numerous Twitter accounts pretending to be your company offer more insightful and timely information than the actual Metro account?
Why do you bother retaining the Metro Promise section on your website when every single bullet-point is farcical?
What you can expect from Metro:
Clean, comfortable, safe and punctual rail travel
Why not just add trains made entirely of platinum, sleepers made of unicorn horns and new stations in the sky?
Clear signage and increasing levels of real-time information updates
When you say "real time information updates" are you talking about when platform announcers make hilarious low-ball guesses at how late a train is going to be?
Proactive plans and actions to ensure your safety
Proactive actions? I don't even know what that means.
We will bring stations to life, for everyone everyday
What, like in The NeverEnding Story when that mountain starts talking?
We actively encourage feedback, listen to customer views and act on them
Are you regretting this one yet?
We collaborate with other public transport operators to deliver seamless tram, bus and train service links
I've noticed one or two seams, I have to admit.
Regular sweeping and cleaning of stations and convenience facilities
Is a convenience facility another name for a dunny? If so, when you say "regular", what are we talking – bicentennially?
Reconfigured train carriages to make peak travel more comfortable
Show me a person who finds peak hour train travel comfortable and I'll show you a person with a fetish for claustrophobia.
We stand behind our promises.
If I were you, I'd stand behind solid things, not abstract ones, because a lot of people want to throw things at you.
As for those stats that you publish on the percentage of late trains and cancelled services – please! If you're going to fudge figures, you either have to go the full Saddam Hussein or try for a more subtle – and potentially believable – deception; say 12% for "Punctuality" and 65% for "Delivery". At the moment, with your 92s and 97s, you're in no man's land. Either make us laugh at your outrageous braggadocio or make us cock our heads and think "I guess it's possible."
Do your senior management group ever travel on the train during peak hour, and if they do, what in buggery do they make of the shambles that is their network? Do they laugh? Do they weep? Do they delude themselves into believing everything's fine? Do they not really care as long as they keep getting subsidised by the government?
One thing they talk about a lot is improvement. They told us we'd notice it the moment Metro took over from Connex. When we noticed the opposite, they told us to be patient. When still no improvement came, they told us it was definitely coming. If you only answer one question in my email, it's this: when? When can we expect to see this improvement? When are we getting the "world-class" system you promised? When can taking a train be a pleasant experience for Melburnians?
That just about brings my email to an end. And now the whole of Australia – and much of the world – waits with bated breath to see what you come back with.
If you can't go all Sam Marshall on my arse, my advice would be to at least avoid corporate weasel words and keep the passive voice to a minimum.
With much sincerity, some anticipation and very little hope,
Jonathan Rivett
---
My feedback has successfully been submitted and my case number is 2012/80818.
<h1><a href="http://haught.com.au/haught-emails/"><span style="text-decoration: underline;">Read more Haught emails</span></a></h1>
<strong>…or choose one that takes your fancy from the list below</strong>:
<a title="My email to Yarra Trams" href="http://haught.com.au/my-email-to-yarra-trams/">My email to Yarra Trams</a>
<a title="My email to Metro Trains" href="http://haught.com.au/my-email-to-metro-trains/">My email to Metro Trains
</a><a href="http://haught.com.au/2015/03/11/my-email-to-facebook/">My email to Facebook</a><a title="My email to Metro Trains" href="http://haught.com.au/my-email-to-metro-trains/">
</a><a title="My email to Microsoft" href="http://haught.com.au/2014/07/22/email-microsoft/">My email to Microsoft</a>
<a title="My email to Coles" href="http://haught.com.au/my-email-to-coles/">My email to Coles</a>
<a title="The #FreeAnnie campaign [VICTORY]" href="http://haught.com.au/the-freeannie-campaign-victory/">My (unsent) email to the Victorian Department of Transport</a>
<a title="My email to Alan Jones" href="http://haught.com.au/my-email-to-alan-jones/">My email to Alan Jones</a>
<a title="My email to Kyle Sandilands [VINTAGE HAUGHT]" href="http://haught.com.au/my-email-to-kyle-sandilands-vintage-haught/">My email to Kyle Sandilands</a>
<a title="VINTAGE HAUGHT: My email to Gasp Jeans" href="http://haught.com.au/vintage-haught-my-email-to-gasp-jeans/">My email to Gasp Jeans</a>
<a title="My email to Jim Beam" href="http://haught.com.au/my-email-to-jim-beam/">My email to Jim Beam</a>
<a title="My email to Ben Polis" href="http://haught.com.au/my-email-to-ben-polis/">My email to Ben Polis</a>
<a title="My email to Hoo haa Bar" href="http://haught.com.au/my-email-to-hoo-haa-bar/">My email to Hoo haa Bar</a>
<a title="My email to Weis (ice creams)" href="http://haught.com.au/my-email-to-weis-ice-creams/">My email to Weis ice creams</a>
<a title="My email to some tobacco companies" href="http://haught.com.au/my-email-to-some-tobacco-companies/">My email to some tobacco companies</a>
<a title="My email to Margaret Court [VINTAGE HAUGHT]" href="http://haught.com.au/my-email-to-margaret-court-vintage-haught/">My email to Margaret Court</a>
<a title="THE RESPONSE: My email to KFC" href="http://haught.com.au/the-response-my-email-to-kfc/">My email to KFC</a>
Haught fact of the day: