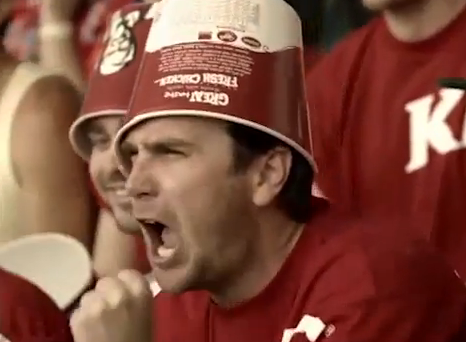 During the Boxing Day test Channel 9 showed twice as many KFC ads as they showed moments of decent cricket.
The ads revolved around two blokes who I'd never seen before (I now know they played for the Charlotte Bobcats).
In an effort to sell fried chicken to Australians, they filmed these bespectacled and tattooed Americans participating in activities with no relevance to anything and asked them to look as awkward as possible while doing it. They employed former Australian cricketer Michael Slater and a crack team of extras to laugh loudly in the background at their profoundly un-humorous antics.
I wrote an email to KFC offering my thoughts on the ads and asking for a job. KFC have responded with nearly as many words as secret herbs and spices in their batter:
Hi Jonathan,

Thank you for taking the time to contact us.

I have passed this onto our Marketing department so they can review and take your feedback into consideration the next time our products and services are reviewed.

Kind Regards,

Danielle
KFC Customer Service
P: 1300 553 899
E: customer.service.hotline@yum.com
Reading between the lines, I think Ian Healy and I can expect calls within the next few days.
Other emails I've sent:
My email to Yarra Trams
My email to Metro Trains 
My (unsent) email to the Victorian Department of Transport
My Email to Alan Jones
My email to Kyle Sandilands
My email to Gasp Jeans
My email to Jim Beam
My email to Ben Polis
My email to Hoo haa Bar
My email to Weis ice creams
My email to some tobacco companies
My email to Margaret Court