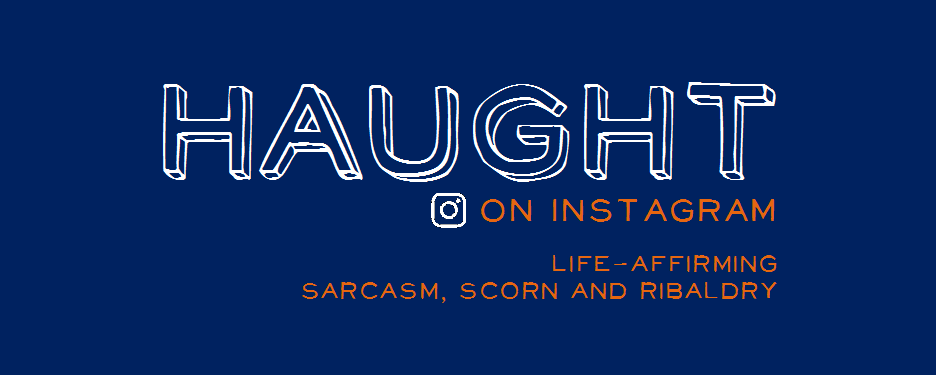 Dear devotees, stalwhaughts and innocent bystanders,
I've called this an email in the heading, but it's not really. It's more like an open letter.
To be honest, I don't like open letters; they're all for show. Open letters are flamboyantly hurled into the ether in a show of look-at-me self-gratification. Emails, by contrast, are sent directly to a recipient and are supposed to be read by that person. My emails are genuine attempts to make contact with an individual or entity about a topic of gravity and immediate import (it's not my fault if other people want to electronically read the beautifully written correspondence over that recipient's shoulder).
And here's my problem, and the reason for my non-email. In the case of most of you, I'm unable to get into direct contact. (In fact, many of you who should, by rights, be reading this, aren't – a jovial un-hello to you.)
In short: emails get to people – this piece of correspondence will miss a huge proportion of you.
Let me explain it as simply and un-boringly as possible:
Haught is a website. Websites cop this thing called web traffic. In the case of Haught it comes in about three or four main ways:
Number 1 by a long way is Google. These days Google blocks me (and any blogger) from seeing most search terms on privacy grounds. Most but not all – so I still know that people come to the site searching for things like "erotic fiction sock fetish", "erotic literature semen tree", "erotic pleasure blue ringed octopus" and presumably leave disappointed (but still incomprehensibly aroused). Many others search for "the Australian President's speech on Muslim immigrants" and are surely either baffled or devastated by what they find. Some get here using terms like "fat gibbon" and "lamprey fingers" – this makes me proud, but not at all confident that I'm attracting serious lovers of sarcasm and lavatory humour via search engines.
Number 2 is Facebook. That's because it's still enormously popular, despite having the appearance of an online Cash Converters. When the whole Yarra Trams thing happened, and Haught became famous for about three days, lots of people rushed to like the Haught Facebook page. More people follow me on Facebook than on Twitter, by email subscription or in any other way – by far.
Number 3 is about even between Twitter and Fairfax websites, but the important point is they're a distant, distant third.
What I haven't included in that list is email subscribers. As far as I know, WordPress doesn't show stats on you ultra-loyal Haughtologists. I love youse all.
So you see, unless people are stumbling onto Haught via Google, they're mostly getting here via Facebook.
But fewer and fewer people are doing that. Now, I could explain why here in thousands of words, but the best way of conveying it to you is by getting you to read (or perhaps re-read) my email to Facebook, from a couple of years ago.
If you can't be arsed, here's the gist:
Facebook lets you 'like' or follow a person, brand or blog but then, via its algorithm, may never show you a post from their page.
In effect, you've told Facebook you want to see posts from a page and Facebook has shrugged and said "Nah, we're gunna show you ads for betting companies, instead". They do this for a few reasons, but by far the most important is because they want me to pay for the privilege of showing you my posts. I don't make any money out of Haught and won't be doing that.
Anyway, long story short, Facebook can go and get fucked and fewer people are viewing Haught than ever before.
There's something quite beautiful about a derelict edifice, but there's also something incredibly pathetic about a person who comes and tends to the weeds and patches up the odd bit of brickwork in the ruins, if you catch my meaning.
Here's what I'm thinking…
Twitter and Instagram – at the moment, at least – put every tweet or post into your timeline without asking little blogs like mine to pay. So – and I'm finally getting to the point here – I'm getting on Instagram.
The ultimate goal is to move off Facebook for good. Utopian, I know, but what have I got to lose? Certainly not any investment in what Facebook call "boosted" posts. Wankers.
So if you're on Instagram, and you've noticed you haven't seen anything from Haught in a while (but you still want to), give me a follow:
You can also follow Haught on Twitter if you haven't already:
Don't bother following Haught on Facebook.
…or choose one that takes your fancy from the list below:
My email to Yarra Trams
My email to Metro Trains
My email to Microsoft
My email to the Commonwealth Bank
My email to Coles
My (unsent) email to the Victorian Department of Transport
My email to Alan Jones
My email to Kyle Sandilands
My email to Gasp Jeans
My email to Jim Beam
My email to Ben Polis
My email to Hoo haa Bar
My email to Weis' ice creams
My email to some tobacco companies
My email to Margaret Court
My email to KFC