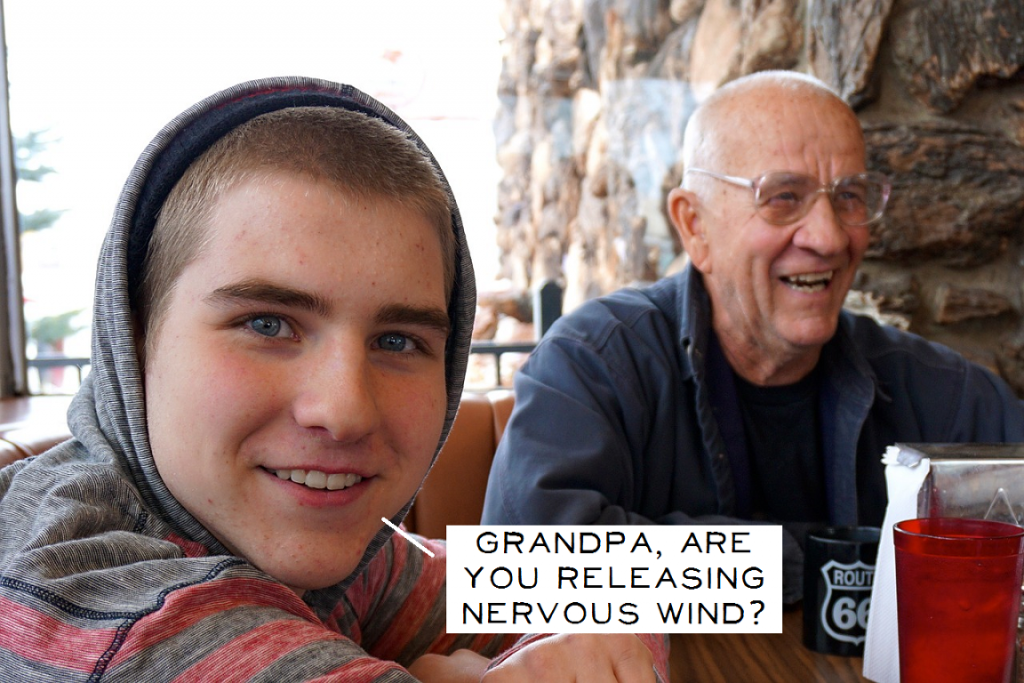 "Grandpa, what was Agile Methodology?"
"Ah, that's a very good question, kiddo."
"And…?"
"And what?"
"And what's the answer?"
"The answer to what?"
"My question."
"About what?"
"About Agile Methodology."
"Oh. Oh… that. I thought you were talking about the other thing."
"What thing?"
"The… thing… with… about… the… the… bi-… about… Biff… Pelican. Biff Pelican."
"What?! No!"
"Well it's a funny story, actually. I used to have this weblog. And -"
"I was asking about Agile Methodology."
"No. No. Of course you were."
"Yeah."
"And… specifically…?"
"What was it?"
"That's right. That's right. I do remember that particular question now. Silly old grandpa's going all Tony Abbott in his old age."
"You're as sharp as a tack, grandpa. And mind your language. Can't you just answer the question?"
"No, of course I can, m'lad. But only after you've had a little sleepy bye. Night night, little tacker. Off to dreamland."
"It's half past four in the afternoon. And I'm 16. And we're at a diner."
"No. Right. Yes. Of course. [sigh] Agile Methodology was… a methodology… that was agile. It had agility."
"That you worked under?"
"Yes. For about four years."
"OK. So you got to know it pretty well?"
"Uh. Yyyes. Yes. You could… certainly… say that. Yes. Yes. No. I'd say… absolutely. Yes. I mean, inside out, really."
"And it helped you… what?"
"Develop software."
"Oh. I thought you worked as a copywriter."
"I did."
"So how did a software development technique apply to writing."
"Yes… yes… that's… well… that's an exceptionally good question. And to get to the… the… the… uh… to really… incisively answer that… uh… most excellent question… we really need to… we really need to… take… a step… or two… or three or four steps back really… many many steps back… and talk about what… what… the whole thing… uh… really involved.
"So what did it involve?"
"Well, there was… a…a…a… wall."
"A wall?"
"A wall.  And you stuck cards on the wall."
"Why?"
"It's… it's… I…I…it's…I…"
"What sort of cards? Holocards?"
"Well. Uh. No, we didn't have holocards in those days."
"What, so cardboard cards?"
"Ye-yes."
"You stuck cardboard cards on a wall?
"We… we did. Yes."
"Why?"
"The cards were… uh… the cards… you might say… uh… represented… work tasks."
"So you put work tasks on a wall?"
"Yes."
"Was this before or after the desktop computer had become mainstream?"
"Uh. Well. No. The… ahem… uh… personal computer… or… or… PC as we used to call it back then – ha ha – had been in most offices for a good… oo… three decades at that point."
"Three decades? BUT YOU WERE YOU PUTTING CARDBOARD CARDS ON A WA- Anyway, how did this wall card system work?"
"Well… uh… every so often you held a… uh… something called a… a… Stand Up."
"What did that involve?"
"People standing up."
"OK. And…?"
"And talking to the cards."
"What!? WHY!?"
"Well… the main point of that… the main point, really, of Agile Methodology in a more general sense was… uh… to… really… uh… in a manner of speaking… was to… well, essentially… what it boiled down to… without making it too technical… because there was a lot of science behind it… what it fundamentally… at its essence… at its core…what we were trying to achieve with… with… that particular method of work… was… was… uh… was…"
"You don't know, do you?
"I have absolutely no idea."

More from Haught: