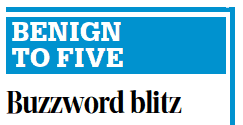 "It's a beautiful thing, the destruction of words."
At least that's what the character Syme from George Orwell's Nineteen Eighty-Four reckons. Syme is a contributor to the Party's dictionary of Newspeak, the language that will eventually replace standard English, and admits to the protagonist, Winston Smith, that he relishes destroying words.
Of course, Orwell meant Syme's words to be taken as outrageous sacrilege by his readers. I, however, was recently inspired by them.

I recently purged my LinkedIn account of its automatonic language. By that I mean all the words that, although not unadulterated wank, had an air of broomstick-up-the-arse about them.
I sprayed this corporate pap with a virulent pesticide and it shrieked as it perished. With a cigar jutting from between my teeth, I laughed. I laughed because nobody told me you weren't supposed to inhale cigar smoke and I was delirious, but also because there was nothing there to mourn.
What I mercilessly slaughtered that day was stuff I had thought other LinkedIn users wanted to hear, not stuff that was actually worth saying.
It's true, LinkedIn isn't Twitter #wherepunctuationdoesntevenmatter, or Facebook, where the hourly change in the soreness of a person's throat is considered newsworthy, but it is part of the social media family. I'm therefore not convinced that when it comes to LinkedIn, you need to stray too far from the social-media rule book, which says ''Write it pretty much as you would say it'' and ''Don't listen to rule books''.
Now, if you're someone who goes around telling people about ''delivering measurables'' and ''driving process change through incentivisation'', you needn't worry. You also probably stopped reading at the broomstick bit, so I don't know why I'm spending valuable words on you.
If you're not, my advice is to go and give your LinkedIn profile a quick ''nonsense'' audit. If you read something and think, ''My friends would punch me in the larynx if I said this to them but bosses will like it'', light a cigar and get sadistic.
An edited version of this article first appeared in the MyCareer section of The Age and Sydney Morning Herald.
You can read Benign to Five in those papers every Saturday, and if you miss it, you can look it up online in the BusinessDay section of The Age, the Sydney Morning Herald, The Canberra Times, WAToday and Brisbane Times. (I now wankishly call myself a "syndicated columnist" on my CV.)

Thaught of the day
The Grape Men have purchased a goat and named it Alphonse.