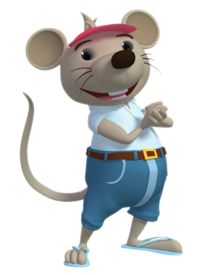 Dear ABC,
This email started its life, many years ago, as the transcribed harrumphing of a Baby Boomer (in the body of a Millennial). I intended for it to be no longer than 75 words and for it to go no further than one of the world's great galleries of inconsequential sourpussery:
Dear Green Guide,
I wrote,
I am concerned about a character on what must be the world's most well-known and longest-running tropical fruit-based children's programme. I'm referring, of course, to Bananas in Pyjamas. The character causing me this consternation is Rat. His behaviour seems often to stretch beyond roguishly slippery and moves into a territory I can only describe as odiously conniving. To give just a few examples…
Here is where I stopped because I found that the examples I was about to give were flimsy. They were scavenged from tattered memories I'd acquired by passing the TV and stopping for a minute or two to satiate my morbid curiosity. What I needed to do this subject justice was a carefully collated and shortlisted catalogue of incidents.
So, over the next few months, I made a habit of sitting down with a pen and paper and watching Bananas in Pyjamas whenever my children were. And often when they weren't. Read More